Robert and Sandy Warren
P.O. Box
Holt, FL 32564
(850) 537-2547
Wagons with Provisions was founded in 1995, when Robert Warren delivered 70,000 John/Romans books for a local printing ministry to Rio Bravo, Mexico and spent three days there. He began to take notes as to the many needs he saw, so that if he ever went back there he would try to help them. Robert noticed that the church balcony railing was in need of repairs. Robert, a welder by trade, was able to return in two months to repair the railing.

The ministry of fulfilling those needs and others has been growing ever since those first trips.

With the prayers and financial support of Christian people churches, the Warrens assist in the acquisition and delivery of such items as printed materials, Bibles, building materiels, and medical supplies. Getting these materiels into the hands of missionaries is an much overlooked ministry.

The Warrens have been active in transporting pews, vans, buses, and printed material to missions works in Mexico, Honduras, and Canada. Recently, God has been opening even more doors for there work in areas such as Haiti, Kenya, and Egypt.


Evangelize The Lost
Acts 14:21
And when they had preached the gospel to that city, and had taught many, they returned again to Lystra, and to Iconium, and Antioch.
Edify Believers
Acts 14:22
Confirming the souls of the disciples, and exhorting them to continue in the faith, and that we must through much tribulation enter into the kingdom of God
By Evangelizing The Lost;
We provide assistance on the mission field by helping with evangelistic meetings and coordinating trips to various fields.
By Edifying Believers;
We do not neglect those who trust Jesus Christ as their Savior. We work with local church printing ministries to provide discipleship training material, tracts, and Scripture portions to believers.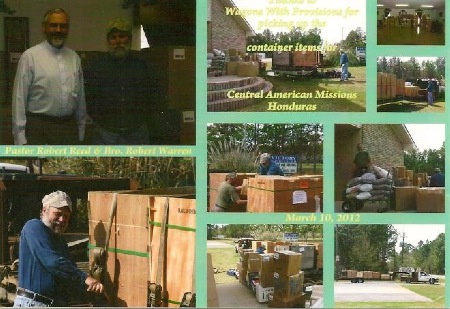 OUR SCOPE

Obtain, purchase, and transport paper that is use by local Baptist church printing ministries for the production of Bibles, tracts, Scripture portions, and discipleship training material in various languages.

Provide transportation services for the collection and redistribution of materiel within the United States and into both Canada and Mexico.

Train and assist local churches and national pastors in their role of helping to fulfill the needs of others by providing services such as arranging for collection and preparation of clothing and other material for shipment to mission fields.

Help coordinate mission trips into Mexico and American Indian reservations by assisting with evangelistic meetings, discipleship training of believers, and the establishment of rural village churches in Mexico and indian reservations. We show the DVD "Light of the World". Brother Robert Warren also utilizes his talents in welding to train the tribes to weld and have a skilled trade.

As the Lord leads, assist ministries in Kenya, Egypt, Haiti, Honduras, and other countries with the collection and distribution of printed materials, medical and other supplies national churches and mission works. Assist orphanages in foreign countries with the collection and distribution of supplies and clothing.


At wagons with provisions, we need the financial help and prayer of both churches and individuals. We need them to capture our vision of the ministry of helps

We need financial support to help us purchase the supplies and equipment. Though many of the items we collect are donated by individuals, companies, or ministries, the costs associated with transportation still exist. We need financial support to help us stay on the road y assisting with ever rising costs of fuel, insurance, and maintenance of a ministry such as this.

We need churches to help with the collection, sorting, storage, and shipping of clothing and other supplies and materials for ministries around the world.